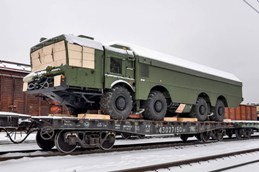 The new K-300P Bastion-P mobile coastal defence missile system was spotted on Station Stroika in Moscow Region.
The K-300P Bastion-P coastal defence missile system is known in the West as SSC-5 Stooge.
The Bastion-P is in service with the Russian armed forces. First 3 systems were delivered to the Russian military in 2010. These are in service with the Black Sea Fleet. Latter one more missile system was delivered to the Black Sea Fleet and 2 systems to the Northern Fleet. This coastal defense system has been exported to Syria (2 systems) and Vietnam (2 systems).
The main role of the Bastion-P is to engage various surface ships. It can also engage carrier battle groups, convoys or landing craft. In some cases missiles fired from this system can target surface targets.